In 1984 Clay moved to Austin, Texas, where he added musical theater and studio work to his expanding schedule of live music performances. A regular on the Austin jazz scene, he has performed with Lee Konitz, Larry Coryell, Brad Terry, Tony Campise, Mitch Watkins, Julie Christensen, Alex Coke, Rich Harney, Elias Haslanger, Bob Meyer, James Polk, Brannen Temple Suzi Stern, Rob Lockart, and many others. As a core member of saxophonist Tomás Ramirez's group for over ten years, Clay opened for many internationally-known artists including Bill Frisell, Eric Johnson, Spyro Gyra, and Chuck Mangione.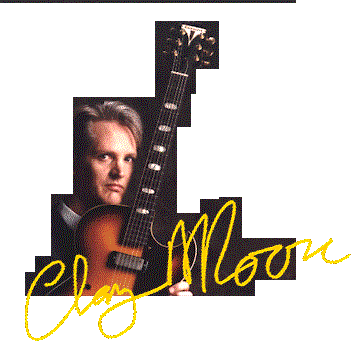 Clay moved to Edinburgh, Scotland, in 1992, where he spent a year playing with local musicians in pubs and festivals.

After a short professional stint in Seattle, Washington, Clay returned to Austin in late 1994. There he chose Austin-based Viewpoint Records to release his debut CD, entitled Meeting Standards.

In November of 2000 Clay moved once again, to South St. Paul, Minnesota, where he released his second CD, To A Tee, and continues to perform and teach. In the fall of 2003 Clay was hired full time to teach at Music Tech, the premier music trade school in the midwest.

Clay has fronted groups in the Twin Cities featuring internationally acclaimed musicians such as Anthony Cox, Eric Leeds, Jay Epstein, Terry Burns, Billy Peterson, Gordy Johnson, Jay Young, Phil Hey, and Gordy Knudtson. His Twin Cities group, the Clay Moore Trio (featuring Michael O'Brien on bass and Greg Schutte on drums) quickly developed a dedicated following playing at Brilliant Corners, Dakota Bar & Grill, Dixie's on Grand, the Artists' Quarter, Cafe Luxx, Loring Pasta Bar, and Sophia.